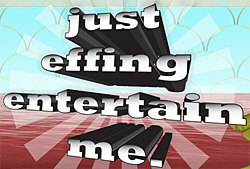 Writing feature screenplays is hard work. Every now and again I find a great excus — er… exercise, that allows me to focus on something else for a while.1
So when Julie Gray, of the popular web site JustEffing.com, held a one page scene competition, it seemed liked the perfect distractio — er… device to sharpen my skills.
Her competition was simple. Write an entertaining one page scene in any genre that incorporated the words: pear, slay and thickening. She's posted my scene, along with the three other finalists' scenes, right here, to be voted on.
Normally this would be the part where I shamelessly plug my scene and ask you to vote for it, but in this case, I just can't do that. You see, after reading all four of the scenes, there's one I actually liked better than mine.
So please head over to Julie's site, read the quick one page scenes, and vote for whichever one you like the best (by leaving a comment).
---
Speaking of Julie Gray, she has some great workshops for screenwriters coming up. Here's more information:
Julie Gray is packing her bags and setting off on a whirlwind, world-wide tour to teach you how to get your Ideas to the Page to the Screen. She's off to NYC February 27-28 for an intensive two-day weekend workshop, then jetting across the Atlantic for UK workshops in London (March 6-7) Oxford  (March 13-14). After, that she's taking some much needed time off in Tel Aviv before heading back to the states to teach workshops in Chicago in April and San Francisco in May. All workshops are $329 with deep discounts given to early-birds including 10% off at the Writer's Store and $50 off attendance at the Great American Pitch Fest this June, 2010.
Sign up before February 12 to receive a free bundle of three podcasts from Julie's teleclass series Just Effing Do It!
Oh, and for you local folk, Julie is also teaching The Saturday Series in Los Angeles on Saturdays January 30, February 6, and February 13 at The Lot on Formosa – $50 a class or $125 for all three. Each class runs 9am to 1pm – get in early, get out early, get on with your day! Go to www.justeffing.com to learn more!
---
My last distraction got me to the quarterfinals of the Creative Screenwriting Cyberspace Open competition ↩