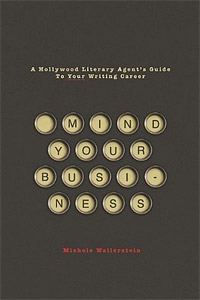 The Questions
Congratulations. After years of writing, you're finally at a place where you have several great scripts.
Now what?
Do you need an agent or should you look for a manager? A personal manager or a business manager? What about an entertainment lawyer? What's the difference between them all? How do you even go about getting one?
Or maybe you're already getting some traction in the industry. Things are starting to move quickly. Do you have the answers you need to navigate those dangerous waters, where one misstep can make or break your career?
The Answers

Fortunately the answers to these questions, and many more, are now in one book:
Mind Your Business by Michele Wallerstein (who is a regular contributor to Scriptwrecked)
I recently had the pleasure of reading an advance copy, and was elated to discover such valuable insights and practical advice. In addition to answering the questions already noted, the book covered important, timely topics, including:
The "business" aspect of "show business"
Writing for film vs. television
Key screenwriting tips for both mediums
Choosing what to write next
Clarifying the agent/screenwriter relationship and responsibilities
(there's a great chapter called: "What does an agent do all day?")
Exercises to enhance your career and knowledge base
Conducting yourself in a meeting
Example contracts
Cautionary tales for screenwriters
Practical networking advice
When to change agencies
The truth behind those script sales figures
Why working for free is a bad idea
Hollywood lingo and resources for screenwriters
… All of that, and more, written in Michele's trademark frank and witty style.
A Must Read
I highly recommend this book. Knowledge is power, and Mind Your Business makes you "strong like bull."
The book can be pre-ordered through Amazon, for delivery July 1, 2010. It's a handy reference, chock full of important, hard-to-come-by information.
Order your copy right now. You'll be happy you did.
---
Michele Wallerstein, has over 25 of experience as a Hollywood literary agent. She has kindly offered to answer any questions you may have, so don't miss this opportunity — send them in!