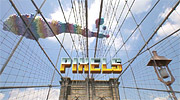 The trend of successful viral shorts being made into movies continues.
Previously, I had posted this article about PIXELS.
Now comes this news:
So many shorts to adapt, so little time. Late last year Sam Raimi paid top dollar for Fede Alvarez's internet sensation Panic Attack, starting a trend that has continued with Carl Erik Rinsch's The Gift kicking off a bidding war between major studios. Today, another web short has been optioned by a top-tier entertainer, and given the star power and strength of his studio connections, we may actually see this get made.
THR's Heat Vision Blog reports that Adam Sandler, through his Sony-based Happy Madison production company, will develop a big-screen take of French filmmaker Patrick Jean's Pixels. The much-buzzed-about short featuring 1980s video game characters (including Space Invaders, Frogger and Pac-Man) attacking New York City got a thumbs-up from filmmaker Edgar Wright and became a viral hit in April, leading Jean to a contract with William Morris Endeavor.