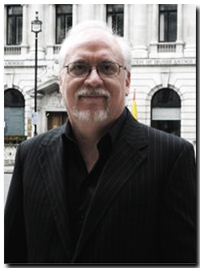 Yesterday I had the opportunity to attend a fabulous (and free) question and answer session with prolific screenwriter J. Michael Straczynski (Changeling, Babylon 5).
The Orange County Screenwriters Association (who hosted the event) provides the following introduction on their web site:
[JMS] currently has five films in production including "Lensman" for Academy Award winning director Ron Howard.
Emmy, Hugo, Saturn, Eisner and Bradbury Award Winner / BAFTA (British Academy Award) nominee.
In his nearly thirty-year career, JMS has worked for some of the top directors and producers in Hollywood. The breadth and depth of his screenwriting and producing career is vast; but his skills extend even further into novels, short stories, comic books, journalism – just about anything and everything you can imagine a writer to be, he is.
He's actually more than I would imagine such a prolific writer to be — he was exceptionally funny (like stand-up comedian funny), comfortable in front of a large crowd, outgoing and generous with his time.
What didn't surprise me, however, was how intelligent he was. What follows are some of his comments and tips that I found to be  insightful or interesting.
On his writing process…
"Get to know your characters so well that you can sit back and watch them."
He discussed finding the the emotional core of your characters. "If your characters are emotionally true then the audience will buy it and accept it."
"It's not so important to know where your characters went to college." You need to ask questions about your characters to find out who they are (i.e. "What frustrates them? Are they in love with anybody?" etc.).
"Find the emotional core truth."
On "Failing Upward"…
"Failure is a necessary part of the process. Find out where the wall is on your abilities. What can I fail at?"
Every time he has pushed himself out of his comfort zone, and tackled something he possibly could fail at, something great has come from it. He "failed upwards."
He spoke of "the tyranny of respectable voices."
"You have to be willing to endanger yourself. A ship at harbor is always safe, but that's not what a ship is for."
The interviewer, Mark Sevi, mentioned a Ray Bradbury quote with a similar philosophy: "Go to the edge of the cliff and jump off. Build your wings on the way down."
To which JMS humorously responded, "If you jump off a cliff, you might as well try to fly, you've got nothing to lose."
On his admiration for Rod Serling…
In his opinion, Rod Serling was the best television writer of all time. When he reads Rod Serling's work he feels like an amateur. He mentioned the following brilliant line of scene description, written by Serling, for the interior of an old lady's home:
"Paneled walls polished by darkness."
***
Are you finding the emotional truth of your characters? Pushing yourself to find where the wall is on your abilities? Reading scripts written by great screewriters?
More terrific stuff in Part 2 tomorrow!
---
Want me to read your script and let you know what I think? Please take a look at my script services.