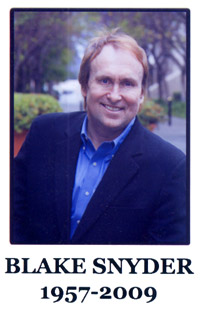 One Heck of a Guy
A year ago today, on August 4, 2009, popular screenwriting mentor Blake Snyder died unexpectedly of a pulmonary embolism. It was a tragic loss to those who knew him. Because to know Blake, was to love him.
I was one of many aspiring screenwriters lucky enough to attend several of his legendary weekend workshops. What set Blake apart wasn't his command of screenwriting craft — though he was one of the most successful spec screenwriters of all time. What truly made him stand above the other so-called "gurus" was his ability to instill in you a belief in yourself.
His optimism and enthusiasm for screenwriting (and screenwriters) was infectious. During the sessions he would often jump up and down like a little kid, and say with each bounce, "I – Love – This – Stuff!" It was not some false cheerleading-style technique; he was literally bursting at the seems with excitement about the mechanisms of story and the possibilities of your script.
More Than Motivational
He wasn't just a motivational speaker with blinders on either. If he thought you were off about something he'd definitely challenge you. But he'd do it in a way that was not only humorous, but eye-opening.
I remember him listening to someone's movie pitch, while pretending to be driving down the highway at 55 miles an hour. "There's your billboard. I'm almost past it…" This, of course, emphasized how important it was to have a clear concept that people could embrace quickly and easily.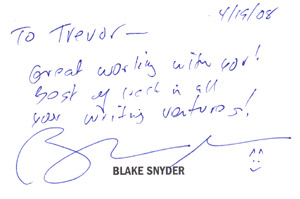 Save The Cat!
If a screenwriter, who's just starting, out asks me which screenwriting book I'd recommend first, I can answer without hesitation — it's Save The Cat!
It may not be the most comprehensive book on screenwriting, but if you're looking for fundamentals on concept, loglines, and structure, this is your book. It's also revolutionary in the way it looks at movie genres. And it's all done in that trademark Blake Snyder style — which takes the overwhelming task of writing a screenplay and makes it approachable and fun.
Lots More Blake

In addition to his books, Blake left behind a wealth of information for screenwriters at BlakeSnyder.com. Pick any article at random to read and you'll immediately feel your spirit buoyed by his patent joy of screenwriting and interacting with screenwriters.
The Blake Snyder team continues to post insightful articles on his web site. Today's post lets you hear from the man himself. You can listen to a 47 minute interview that's guaranteed to inspire, because that's what Blake did best.
I sure do miss him.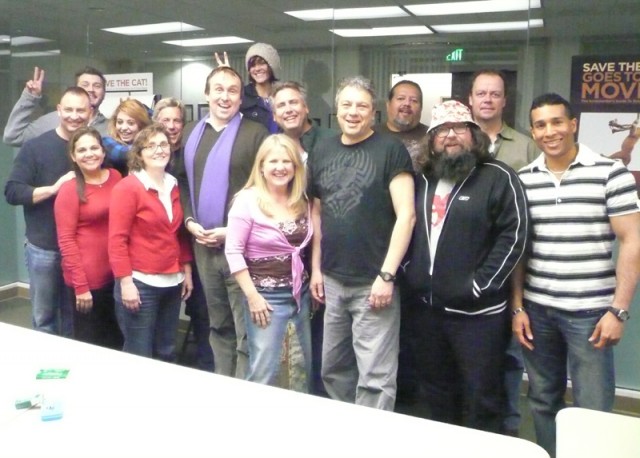 Save The Cat! Beat Sheet Workshop – January 2009
Blake in the purple scarf.
Me on the right in the striped shirt. Ahhh… good times.