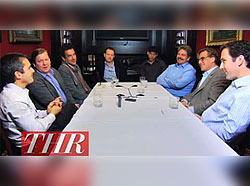 Wouldn't it be nice to eavesdrop on a conversation with some of the best screenwriters working today? Well The Hollywood Reporter has given us that opportunity.
Writers Aaron Sorkin (The Social Network), Simon Beaufoy (127 Hours), Michael Arndt (Toy Story 3), John Wells (The Company Men), Todd Phillips (Due Date) and David Lindsay-Abaire (Rabbit Hole) sit down for an hour long Q & A.
If you just want a taste of the discussion, THR provides the following three quick snippets:
Awards Watch Roundtable: The Writers 1
How did the firing go down? For the first time, Todd Phillips reveals Mel Gibson's reaction to being cut from "The Hangover II."
Awards Watch Roundtable: The Writers 2
Aaron Sorkin, John Wells and Todd Phillips weigh in on wrangling with the legal department over their films. Plus, what title did "Old School" almost get slapped with?
Awards Watch Roundtable: The Writers 3
What is it about the WGA that makes "Due Date" writer Todd Phillips refer to it as "the whiner's guild?" And why does Aaron Sorkin call the WGA "it's own worst enemy?"
H/T to Benjamin R. for the link.