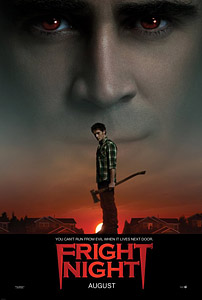 A couple of years ago, I wrote an open letter to the TV and movie vampires of the world. That's definitely worth a quick read, but if you're pressed for time, it can be summarized by a simple question:
If blood is so tasty, then why do you leave so much of it on your damn face?
Well it seems that the vampire in the remake of Fright Night (played by Colin Farrell) read my post, because there are several scenes where he stops to lick the extra blood off his face and chin.
Finally — a vampire movie that pays attention to the details! Credit must be given to Marti Noxon (of Buffy fame) who wrote the smart screenplay, as well as director Craig Gillespie (of Lars and the Real Girl fame).
There are a number of really nice touches and surprises in this movie that make it a cut above most remakes out there. If you like your vampires more dark and broody, less sparkle and moody — then you'll enjoy this film (which is now on DVD/Blu-Ray).
Anyone else pleasantly surprised by this movie?