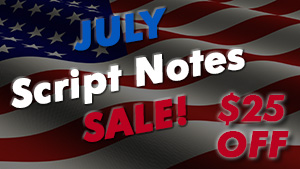 A July 4th sale is good, but a month-long July sale is even better. So that's what I'm cooking up this month — a discount on script notes!
Whether you'd like an insightful written critique of your script, or a more interactive verbal critique (or both), you'll get $25.00 off through the month of July.
Script not quite done? No problem. Purchase the script notes for the reduced rate in July, and you can send me your script later, when it's ready.
Please visit my script notes page for more information and to order.