What is it?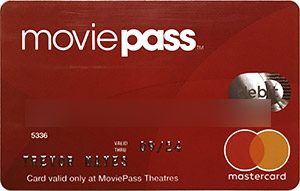 MoviePass is a service that allows you to see as many movies as you like (but only one movie per day) for a flat monthly fee. So in a 31 day month, you could conceivably see 31 different movies… or one movie 31 times, if that's your thing.
When the service was first introduced several years ago, it was quite pricey. But now that there are new investors, including the co-founder of Netflix, it has an incredible new price tag — just $9.95 per month!
That's right, for the price of less than one movie ticket in many cities, you can see an "unlimited" number of movies.
How does it work?
After you've purchased your MoviePass subscription, you wait for your card to arrive in the mail. Due to the rush of new subscribers, there have been some frustrating delays — up to six weeks or more. So manage your expectations accordingly.
When your MoviePass card (a Mastercard debit card) arrives, you'll need to download the MoviePass app and enter your card number.
Next, you pick a local theater, and it will display a list of the eligible movies playing. (Currently, you can only see 2D movies in a standard cinema — no 3D, no IMAX, no RPX, etc. Any showings that are ineligible will be grayed out.)
I would make sure you open your app before you leave for the theater — just to make sure the movie/showtime you want to see is available on the MoviePass app.
Sadly, you cannot reserve your ticket in advance; you have to be within 100 yards of the theater to use the app to check in. That means you'll need your MoviePass card and a functioning smart phone with cell phone service.
The first time you select a movie showtime and click "CHECK IN," it will try to authorize your account. When I tried this, the app just churned and churned for five minutes, waiting for the authorization. I'm the impatient type (and also know that some apps are buggy), so I simply exited the app, then reopened it again, and poof — I had been authorized and checked in!
"Checking in" is a bit misleading. You're not actually checked in to anything. What happens is that behind the scenes, MoviePass adds the funds to see the movie to your MoviePass debit card. It doesn't mean you have your ticket yet or that there are actually tickets left for the show you want to see. You still need to go to the ticket window or kiosk to purchase your ticket.
You simply tell them what movie you want to see, hand them your MoviePass card (and theater rewards card if you have one), and that's it! If the showing is sold out, the app has some functionality that allows you to select another movie. I haven't encountered that situation yet, so you'll have to tell me what that experience is like.
Is it worth it?
$9.95 per month to see as many movies as you like? Of course it's worth it!!
But there are a few things to keep in mind. Here's a quick list of the current pros and cons:
PROS
One low $9.95 monthly price.
See a new movie every day.
No blackout dates or movies.
Can be used at 91% of theaters nationwide.
Inspires you to see a whole host of movies you may not ordinarily want to shell out the bucks for.
CONS
It might take a while for your MoviePass card to arrive.
While it can be used at thousands of theaters nationwide, it may not include your favorite theater (but it probably does).
Can only buy one ticket at a time. No biggie though — if you want to pay for two or more people, just make two separate transactions.
The app may be a little buggy. Just keep trying. (That's your only recourse — customer service for MoviePass is notoriously non-existent.)
Cannot reserve movie seats in advance. You have to be at the theater and hope the showing hasn't sold out yet.
Cannot see anything other than a 2D movie in a standard cinema.
SUMMARY
If you're like me and love to see movies, don't let a few Negative Nellies online dissuade you from getting MoviePass. It's a fantastic bargain!
Do you have MoviePass? How has your experience been?