Yes, they do. Very much.
For about 25% of you, this may be the most important article you'll read this week.
Writers tend to break down into four types:
Those who are fastidious about their writing and take great pains to make sure everything is written perfectly.
Those who write really well and don't really care about perfection but recognize that their scripts should be as tidy and presentable as possible.
Those who don't write all that well but recognize they need to get help polishing their script.
Those who love the freedom that texting provides with its complete disregard for spelling, punctuation and grammar because no one actually cares about those things, not even in scripts.
The first three types, in their own way, all recognize the importance of a polished script. This article is for that fourth type — the writers who are not bothered in the slightest by typos and poor grammar. They do, however, care deeply about story and character because that's what really matters, right?
Right. But…
Here's the important lesson: Even though typos and formatting issues don't bother you, they bother other people a great deal. And more to the point, odds are they will greatly bother the gatekeepers that are reading your script.
Why?
There are a number of reasons:
Sloppy writing implies a lack of care. You leave the reader thinking, "If they're that sloppy with typos, etc. what else are they sloppy with? Structure? Character development?" It taints the read. If you don't care about your script, why should they?
They're already looking for a reason to say "No." Don't give them an easy one. See, when a reader says "Yes" to a script, they're putting their reputation on the line with their boss. Too many scripts that don't mesh with the boss's idea of quality means that reader may be out of a job. And let me tell you, a lot of producers hate seeing typos in scripts.
You may encounter a reader who absolutely despises typos. Sure, they're supposed to prioritize the concept, story, characters, etc., but they're only human. For some people, typos so completely offend their sensibilities that they feel like personal attacks. It may not be rational, but it's the truth. If you encounter one of these readers, and your script is riddled with typos or formatting problems, your opportunity is blown from the jump.
Typos are straight-up distracting. Even if you've found a rare reader doesn't intrinsically care a whole lot about typos, the mistakes will still bog down or trip up the read. The last thing you want is to jolt a reader out of a blissful experience with a typo or confusing mistake.
Some readers associate spelling and grammar with intellect. I'm not convinced of such a correlation, but many are. So if they see words spelled incorrectly, or transposed, or incorrectly punctuated, they'll think they're reading a script from a dumb-ass. Would you recommend a script you believe was written by a dumb-ass?
Maybe your spelling is good but your script formatting is crap. That implies you're a novice. Would you recommend a script you believe was written by a novice? Don't sleep on proper script formatting (which can take years to learn).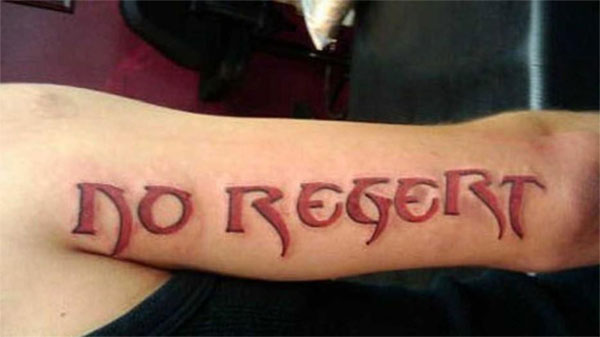 But what about…?
Who? Tarantino? I'm not going to assail you with the typical response: "You're not Tarantino." That's ridiculous. Maybe you're as good as Tarantino. Maybe you're better. But even so, Tarantino started somewhere, and his early scripts were extremely well written without a bunch of distracting typos.
Can't say that about him anymore, but when you've reached his level of success, you're not playing by the same rules the rest of us are.
As for formatting and screenwriting rules, you can look at a script like Good Will Hunting and say, "Look at how that was written." But between the weird sluglines and unpolished writing, the talent shines through.
Even so, Ben and Matt are lucky they got their screenplay into the right hands. Success means getting the right script into the right hands at the right time. If the script took a different path through a different reader (i.e. gatekeeper), who knows what would have happened?
Moral of the story…
Don't leave things to chance. Make sure your script is the best it can be on all fronts. Send it to a professional script proofreader like me before potentially blowing your big break… or your next big break.
Did you know that I proofread scripts from professional A-list screenwriters before they send them to the studio? If a clean script is that important to them, it definitely should be that important to you.
For many writers, typos and formatting issues can seem like insignificant little things, but always keep in mind that gatekeepers or decision-makers may see them as a legitimate reason to reject your work. So take whatever steps you need to polish your script. Your success may literally depend on it.