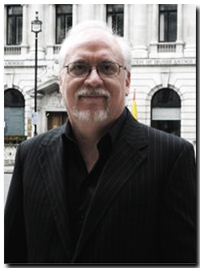 In my last post, I provided you with some insights from prolific screenwriter J. Michael Straczynski (Changeling, Babylon 5). Today I have some more from his Orange County Screenwriters Association Q & A on Saturday.
On making all of your characters well-rounded…
"We are all the heroes of our own narrative. The more time you can spend looking at the story from everyone's point of view, the better your story will be."
On the impact his age or TV experience had on how well his Changeling script was received…
Even though JMS had numerous prior television credits, his movie, Changeling (starring Angelina Jolie and directed by Clint Eastwood), was the first feature film he had ever written.
So when he started taking meetings with Producers around town no one knew who he was. And it didn't matter.
It didn't matter what his background in television was, and it didn't matter how old he was. No one cared.
"It comes down to the quality of the words on the page."
The key to breaking in to Hollywood is writing a great script.
On getting a drama produced…
He said the three words he keeps hearing over and over again in Hollywood are, "Drama is dead."
His advice, if you have a script that's a straight drama, is to try to "package it to within an inch of your life." Get a big name director or actor attached to the project.
"Packaging is more important today than ever."
On refining your script…
"Start with everything you can say. Then cut it down to everything you want to say. Then finish with everything you need to say."
On making it…
He feels his success in Hollywood is as "unlikely as it is inevitable."
You have to follow your passions. "If you have a modicum of talent, put yourself out there and work really hard, it is achievable. You can do it."
As Rod Serling once told him, "Never let them stop you from telling the story you want to tell."
***
Are you following your passions? Writing the story you want to tell?
---
Need some help with your screenplay? Please take a look at my script services.