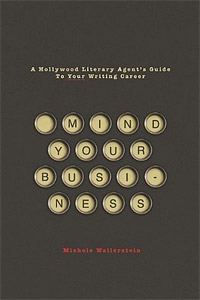 So here's something quick, fun and free — Scriptwrecked's first contest!
You can win an autographed copy of Michele Wallerstein's great new book: "MIND YOUR BUSINESS: A Hollywood Literary Agent's Guide To Your Writing Career."
All you have to do is come up with a logline that uses the following three random-ish words:
go, cat, he
The words can appear on their own, or as part of another word (e.g. "placate" could be used for "cat").
The criteria that Michele and I will use for judging the winner is simple. The logline must be funny, original and marketable. It needs to sound like something that you could actually picture playing at your local cineplex.
Whoever comes up with the best one, or comes closest to hitting the mark, will win the book. If you need to brush up on what I feel constitutes a good logline, check out my logline primer.
Please post your submissions in the comments section below before November 1st (i.e. by Halloween night). Enter as many times as you like, and most importantly, have fun with it!