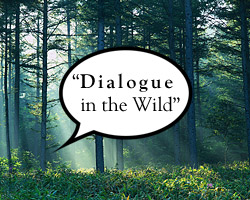 As a screenwriter, I hope you're always listening for great dialogue "in the wild." You know — those brilliant lines that occur while we're out with friends, chatting with our boss, eavesdropping on the next table at a restaurant, or even watching reality television.
They could be witty comebacks, terrible insults, bad pick-up lines, bizarre life philosophies, unintentionally stupid arguments, etc. Anything that stands out as prospective dialogue gold.
When you hear such a line, make sure you jot it down right away. You never know when you'll be able to use it, or a modified version of it, to perfectly punctuate a scene.
Defending Your Buddy
I overheard today's dialogue in the wild at Dave and Buster's last weekend. A female server was arguing with a drunk customer. She was trying to cut him off, worried that he was going to be driving home.
That's when the drunk guy's buddy (who was also drunk) piped up with the following horrifying justification to keep drinking:
It's okay, he's a really good driver. He drives a school bus.
Yipes.
Do you keep a journal or document with great lines you've overheard?
---
Want me to read your screenplay? Please take a look at my script services.