Expectations Exceeded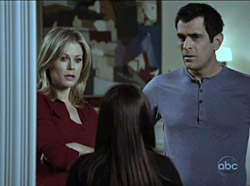 When I posted this extended Modern Family horror trailer spoof, I was hoping that, over a year or so, the video would maaaaybe receive 50,000 views.
Much to my surprise and delight, the video exceeded that number in just 3 days, and over the holidays!! BuzzFeed first picked it up, and then it spread from there.
Surreal Moments
There have been some really cool moments over the last few days:
3. The video appears in The Huffington Post
When an article about your video appears in The Huffington Post, you know you've touched upon something that has struck a chord outside your own little world.
2. While surfing IMDB, I see a news story about it
Last night, while visiting IMDB.com, I glanced down and noticed the top related news story was an article about the video! Of course, I was on The Bad Seed movie page, so I guess that makes sense… but still — wicked cool!
1. Ariel Winter tweets about the video — twice!
It was hugely rewarding (and relieving) to see that Ariel Winter, the brilliant young actress who plays Alex Dunphy, got a big kick out of the video. Here's one of her tweets:

"WHYYYYYYYYYYYYYYYYYY???!!!!!!" – Phil Dunphy
So why did I make this video? What was the inspiration?
I love Modern Family!
Genre-bending and re-cut videos are hilarious. I was especially inspired by this video for Sleepless in Seattle.
I've always enjoyed movies about clever, evil kids (e.g. Macaulay Culkin, The Good Son / Isabelle Fuhrman, Orphan).
I was surprised Dexter didn't go in this direction… yet. I mean seriously, look at Astor. That girl has darkness in her.
I was impressed by the acting of Ariel Winter. How does she have that much poise and confidence? When I was that age, I couldn't even look an adult in the eyes.
Let's face it, Alex only needed a strategic nudge or two to make it work.
Thought it would be fun to figure out the puzzle and put it together. It was!
It gets something entertaining out there right now for people to see. I love screenwriting, but it takes years for the fruits of your labor to pay off.
I thought the material was really interesting. We've seen evil kids before, and even smart evil kids. But a psychopathic child genius? Never. So I'm currently working on a feature film treatment! I'm excited about it, because I'm tellin' ya, the the ending of my story gives The Usual Suspects a run for its money.
Thanks!
The overwhelmingly positive responses to the video have been incredibly flattering, humbling and very, very much appreciated. Thank you everyone!!!
Wishing all my Scriptwrecked readers (and my new Modern Family Horror Movie fans) all the best for the New Year! Let's make sure 2012 is killer!
Stay tuned for my next video project… and of course more great content about screenwriting and movies.
Previously:
Modern Family as a Horror Movie [Video]
---