The Glitch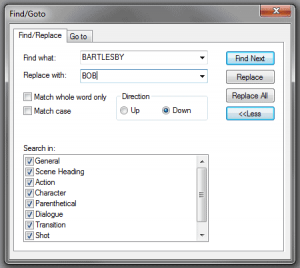 Suppose you need to change a character name in your script. Simple right? In your screenplay editor of choice you simply execute a Find/Replace (Edit > Find…) for the name.
But…
If you're using Final Draft, and you happen to have dual dialogue (dialogue that's written side-by-side — used primarily to indicate that two characters are speaking at the same time), for some reason the Find/Replace won't work.
I found this out the hard way a while back when a director told me to make sure I had changed all of the names in the next draft. For someone like me, who's a card-carrying perfectionist, that was cringe-inducing.
The Tips
1) If you have Final Draft and you do a Find/Replace for a character name — make sure to check the dual dialogue blocks afterwards to see if it worked everywhere.
2) It's always a good idea to rebuild and alphabetize your character list.
The second tip was a great reminder from one of my clients who had also encountered this Final Draft glitch and shared it with me (thanks P.H.!).
Rebuilding your character list (in Final Draft: Document > SmartType…), alphabetizing it, and giving it a quick glance (before sending it out to important readers), is a great way to see if you:
– Have misspelled a character name (e.g. Steven / Stephen) and used both instances
– Still have names of characters that have since been deleted or had their names changed
Audience Participation
Final Draft recently released version 9 of their software. Any test pilots out there with Final Draft 9 willing to see if a Find/Replace will now change a character name that's a part of a dual dialogue block?
Note: I'm referring to the CHARACTER NAME that appears above the dialogue of a character, not the mere mention of a character's name.
If you give it a try, please let me know. It would make upgrading to Final Draft 9 more worthwhile.