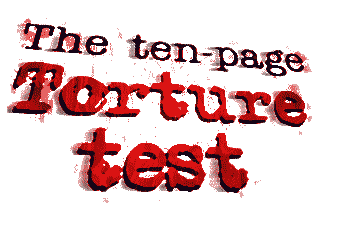 There are many writing achievements that I'm proud to have accomplished: placing in/winning script competitions… having my first script optioned… getting my first paid writing gig…
And now I've been asked to be the first guest script reviewer for the 10 Page Torture Test!
While my previous achievements were grand, I can say without hyperbole that this one is at least a billion times better than the others. 😉
What is the 10 Page Torture Test?
It's a site where a mysterious and talented guy, who goes by "Pitchpatch," takes the first 10 pages of mostly amateur scripts, and digs deep into their nooks and crannies. In doing so, he offers fantastic (and hilarious) insight into what works, and what doesn't, complete with suggestions for improvement.
And what's more, he does it for free! All for the love of screenwriting, and the recognition of the importance of the first 10 pages of a script. As you should know, if your first 10 pages don't impress, the reader will likely have permanently checked out by page 11.
How good is this guy, Pitchpatch? Here's a hint: Guess who I beg for notes when I need one of my scripts critiqued?
Send me your scripts!
For the next edition of the 10 Page Torture test, I'm going to take the reins and provide the feedback.
But I only get to choose one script. So if you'd like the first 10 pages of your script critiqued publicly, FOR FREE, send it to me, with its associated logline, by Friday, June 20th at Midnight.
I'll be choosing the script based on two things:
The intrigue of the logline. (Is the concept compelling? Is the movie marketable?)
The potential for readers to learn from my notes. (Are there things the writer has done really well? Are there common mistakes to point out?)
It should hopefully go without saying by now, but any constructive criticism will be provided with an aim to enlighten — not embarrass.
So send me your script (and logline) for consideration!!!