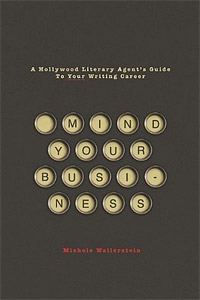 Michele Wallerstein — former Hollywood agent, popular speaker/consultant, Scriptwrecked contributor and now author (!!!) — will be holding a book signing and Q & A this Saturday.
As you may recall, I reviewed her new book, Mind Your Business: A Hollywood Literary Agent's Guide To Your Writing Career, a few weeks back.
If you're in the L.A. area, have enjoyed her posts, and want to pick up a great book or ask her some questions, please stop by!
Where
BOOK STAR, on Ventura Blvd., in Studio City
(one block west of Laurel Canyon — Michele's name will be on the marquee!)
When
Saturday, August 7th, at 3:00 p.m.