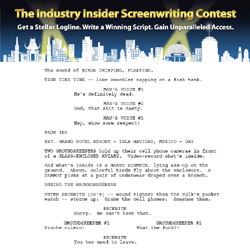 A while back I discussed my experience with the first Writers Store's Industry Insider Screenwriting Contest. Even though my submission wasn't what they were looking for, I was still very impressed with the contest itself and the opportunity.
However, if you're like me, I'm sure you'd like to see how your 15 pages compared to the ones that made the top ten. Well now you can! The Writers Store has just posted nine of them.
To see them all (including the winner's pages) for the Simon Kinberg contest logline, please click here.
UPDATE: For those entering the current round of the Industry Insider Screenwriting contest, here's a great tip from Dana Hahn, Industry Insider Contest Coordinator, who was kind enough to provide it to me:
"The main thing that we're looking for in our contest is the quality of the writing, and a unique take on the logline."
– Dana Hahn, Industry Insider Contest Coordinator
Thanks Dana! And good luck everyone!
---